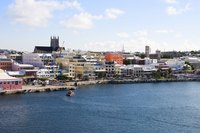 Bermuda law recognizes two types of corporations. Local companies are owned primarily by Bermudans and do business in Bermuda. Exempt companies are primarily owned by foreigners and do business elsewhere. The only business an exempt company can do in Bermuda is transactions tied to its business overseas. Whichever type of corporation you wish to set up, you'll start by dealing with Bermuda's Registrar of Companies.
Choosing a Name
Both exempt and local companies must submit their proposed business name to the Registrar. The Registrar won't fully approve the name until you finish incorporating, but it can reserve the name for three months so nobody else can snatch it up while you're submitting paperwork. If the Registrar decides the name is too similar to an existing company, you'll have to pick an alternative. Foreign companies can submit a second business name in non-Roman script, along with a translation and a notarized statement confirming the translation.
Registering Local Companies
A corporation qualifies as a local Bermudan company if at least 60 percent of the directors are Bermudan and if 60 percent of the stock and voting rights are owned by Bermudans. If you want to incorporate a local company, the government prefers you submit to the Registrar through a Bermudan law firm. The law firm will need your suggested company name, a description of your intended business activities and a list of owners. Your company needs to have at least two directors living in Bermuda, or a director and board secretary.
Exempt Companies Register
To incorporate an exempt company, you apply to the Bermuda Monetary Authority. The application includes your company name, the nature of your business and identification papers for owners holding at least a 5 percent stake. The Authority will wave the last requirement if it already knows the owners or if your company is publicly traded. Your company also submits a Memorandum of Association to the Registrar showing the share capital, the shareholders' liability and the goals of the company, among other things. Once all the paperwork is in, it can take as little as one day to finish incorporating.
Petitioning Parliament
You also can incorporate an exempt company by a "private act" of Bermudan Parliament. You reserve the company name as usual, then advertise your intentions in the local newspapers. After that, you submit a private bill -- similar to the memorandum other companies submit to the Authority -- to the Joint Standing Committee on Private Bills. If the committee gives you a thumbs up, parliament will too. It typically takes six to eight weeks to pass the bill and incorporate your business.