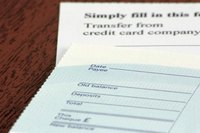 Many consumers and credit card holders receive unsolicited credit card convenience checks in the mail on a regular basis. They are sent as advertisements that are meant to entice a consumer to use them and then get roped into a high interest credit agreement. For consumers and card users who do not have a desire to increase their debt, these convenience checks can be a hassle because they must be destroyed with care so that the consumer does not become a victim of credit card fraud or identity theft. Consumers who prefer not to receive these unsolicited and inconvenient offers can put a stop to them.
Examine the credit card convenience checks for the company's phone number and address. If the checks were sent by a company that you are currently a cardholder with, you can check the backside of your credit card or your monthly statement for this information as well.
Call the credit card company and explain to the customer service representative that you would like to be removed from the company's advertising mailing list immediately. It may take anywhere from several days to weeks to be completely removed from the credit card company's solicitation list.
Send a follow-up letter to the credit card company stating your wishes in writing. Keep a copy of the letter for your files. This action should ensure that you are officially removed from the company's list. In the event that you receive unsolicited offers in the future, you may submit your written letter to your state's attorney general's office and file a complaint.