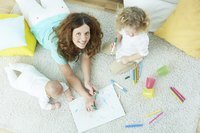 Although some parents may want to hire you as an employee, a nanny must be classified as a household employee and issued a W-2. If you do receive a Form 1099 instead, complete Form 8919 to correct the error. To file taxes, nannies should record information from W-2s on the main tax return Form 1040. If some parents don't issue you a W-2, you can contact the IRS and include a substitute W-2 in your tax return.
Nanny Tax Status
Even if some of your clients want to pay you as an independent contractor, most nannies must be paid as employees. According to the IRS, nannies are considered to be household employees because parents control both what type of work is done and how the work is done. As a nanny, you should be classified as an employee regardless of whether you work part-time or full-time, short-term or long-term. If any of your clients ask to pay you as an independent contractor, direct them to IRS Publication 926 to support your position.
Form SS-8 and Form 8919
It's possible that, despite your best intentions, one of your clients considers you an independent contractor. If this happens, you must complete Form SS-8 and send it to the IRS. After receiving the form, the IRS will make a determination regarding whether or not you should be an employee and alert your employer. If the IRS determines you should be an employee and your client still sends you a Form 1099-MISC instead of W-2, you should complete Form 8919 and attach it to your tax return. Form 8919 is designed for employees that received a Form 1099 even though they should be classified as employees.
Record W-2 Information on Form 1040
You should receive a Form W-2 from each of your clients by February 1. You can include the W-2 wages in your Form 1040 just like you would for a regular job. Record the amount of wages in box 1 on line 7 of the main Form 1040, "Wages, salaries and tips." Record the amount of federal income tax withheld in Box 2 on line 64, "Federal income tax withheld from Forms W-2 and 1099." Attach the Form W-2 to your tax return before you file it.
Missing Form W-2
If you don't receive a W-2 by February 14, contact your employer and ask for one. If the employer doesn't respond, reach out to the IRS. You'll need to provide the contact information for your employer along with your dates of employment and an estimate of how much you earned working for them. Even if you don't receive the W-2 by your filing deadline, you still need to file your tax return. Complete Form 4853, the Substitute for Form W-2, and attach that to your tax return in lieu of the actual W-2.