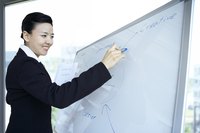 A powerful proposal could be the key to achieving the long-term business and financial goals described in your business plan. Whether the focus is on arranging financing, securing a new client or entering into a business partnership, the keys lie in delivery and tailoring both the written proposal and oral presentation to the target audience.
Bring the Entire Team
A potential customer or group of investors may be as interested in meeting the team as in listening to a proposal. Bring the whole team, but select presenters based on qualifications, not on who has the best oral presentation skills, and spend time practicing with them on their delivery. Qualified and well-coached presenters add credibility to a presentation. Complete the written proposal and visuals in enough time to allow for adequate coaching and practice sessions.
Speak From the Heart
A business proposal is essentially a sales presentation. For example, the goal of a contract proposal is to persuade a prospective client to hire your company instead of a competitor. Emphasize your company's strengths and proactively address any weaknesses. Speak respectfully if you mention a competitor. Above all, don't speak from a script. Presentations are often more successful and the message is easier to understand when presenters converse with the customer using a speaking voice, not the writing voice commonly used when delivering a proposal presentation based on a script.
Don't Overwhelm the Audience
Understand that you most likely will not have time to develop every key point fully in the time allotted to deliver the proposal. Instead of overwhelming your audience by trying to cover everything, coordinate key point development with the time allotment. For example, if you're given one hour, include no more than five key points. Focusing on key points improves timing accuracy and increases the confidence of the presenters.
Use Graphics Wisely
Well-chosen presentation graphics communicate much faster than text and can substantially increase the chances of delivering a successful presentation, according to Michael Parkinson of the 24 Hour Company. Communicate only one message with each visual, and arrange graphics according to importance if you are using more than one to develop a single key point. Quality is important, so include professionally rendered visuals.