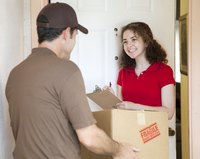 You finally found that special item you've been wanting to buy for ages. Unfortunately, the shipping cost is ridiculous. Shipping charges can easily add an additional $10 or more to the cost of your item. If the item is heavy, oddly shaped or coming from overseas, the shipping can go quite high. With so many shopping options, there are a number of things you can do to avoid or reduce shipping costs when making a purchase.
Buy items locally to avoid paying shipping charges. Call ahead to make sure they have what you're looking for to avoid wasting time.
Select the "site to store" option when purchasing online. Many national retailers allow you to buy an item online and pick it up at the local store for no extra charge. Same-day pickup may be available, but plan ahead in case there is a wait.
Spend enough money to earn free shipping on your online order. Save up your shopping list and buy several items in one order so that you spend enough to meet the retailer's threshold for free shipping.
Use a free shipping coupon code. You can often get these codes by joining an email list or signing up for text messages. Try calling in and asking for a code if you can't locate one online.
Ask local stores if they ever run free shipping promos. When you're purchasing large items such as furniture or appliances, the store may charge a small fortune for delivery. It's not uncommon for companies to offer free delivery promotions.