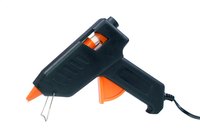 Hot glue is lauded as an extremely sturdy adhesive product. While this is a highly desirable trait when the glue is applied correctly, it can seem disastrous for unwanted hot glue stains. Items with a spot of accidentally applied hot glue needn't be discarded or given up as ruined, however. Techniques exist that may diminish the stain, or even remove it completely. Using one or more of these methods, you should be able to save the stained item.
Things You'll Need
Plastic knife
Craft paper or paper grocery bag
Iron
Acetone-based nail polish remover
Cotton ball
Place the stained item in the freezer, if possible. Leave it there overnight to freeze thoroughly. Remove it from the freezer the next day and scrape the glue away with a plastic knife or scraper.
Set a piece of plain craft paper or a paper grocery bag on top of the stain. Apply a hot iron to the opposite side of the paper for about four seconds. Repeat, applying the iron to the stain for a few seconds at a time until the glue begins to adhere to the paper. Gently lift the paper off the stained item, bringing the glue up with it.
Soak a cotton ball or a corner of a paper towel in acetone-based nail polish remover. Dab at the glue stain repeatedly until it loosens and comes off with the paper towel or can be scraped off.