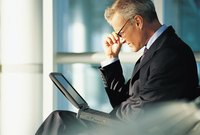 Canadians have the right to a free credit report from the two major credit reporting agencies, TransUnion and Equifax. Your credit report does not include your credit score. The Financial Consumer Agency of Canada recommends reviewing your credit report at least once a year to check for errors or signs of identity theft. The Agency recommends ordering from one company first, then waiting for six months before ordering from the other. By doing this you can check your credit about every six months and spot problems sooner.
How to Request Your Credit Report
You can only get your free credit report through a mail-in or telephone request. Online credit requests come with a fee. To order by mail or fax, use the forms on the websites of TransUnion and Equifax. To order by telephone, call the agencies. You must provide some personal information and identification. Equifax requires copies of two pieces of government-issued identification, plus proof of address if the government ID does not include your address. Proof of address is satisfied by a utility bill, credit card statement or similar document. TransUnion requires one piece of government-issued ID and a document such as a utility bill or credit card statement. Alternatively, you can provide two pieces of government-issued ID as long as the IDs combined have your name, current address, date of birth and signature. The full list of acceptable pieces of ID is on the TransUnion website. If you order by telephone, you will be asked certain questions to confirm your identity.