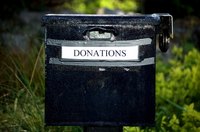 Donation websites are handy when you want to help a cause or charity and promote this cause or charity so that others can help raise money for it as well. However, in order to create a successful donation business, you will need to have basic knowledge of search engine optimization (SEO) to increase search engine visitors to your business. You will also need to purchase your own domain name and hosting plan for your donation website.
Things You'll Need
Choose a name for your donation business that is similar to your donation cause. For example, if the cause for your donation business is to provide food for American soldiers in Iraq, you might want to consider a name like Iraq Soldier Foundation. Register a domain name for your donation website (in this case, you would purchase a Iraqsoldierfoundation.org domain) on a domain registrar like GoDaddy. If the ".org" domain name is already taken, consider using a ".net" or ".com" domain name.
Purchase hosting or use free hosting for your donation business website. Some hosting providers are DreamHost, iPage, JustHost and HostGator, according to WebHostingSearch. If you want to go the free route, use free hosting providers like Blogger or Wordpress.
Set up important pages for your donation business website. According to ProBlogger, About, privacy, contact, and FAQ pages are necessary for all business websites. Create an page describing the cause of your donation business, a privacy page so that donors know that any information they submit will be kept private, a contact page so that donors can contact you about any questions they have and a FAQ page to answer frequently asked questions donors may have about your business. Add a donations page also, further explaining your cause and why visitors should donate.
Sign up for PayPal and add a "Donate" button from the "Merchant Services" tab to your website, both on the sidebar and on the Donations page. PayPal is one of the most popular money transfer websites on the Internet, so many visitors will already have a PayPal account to donate money with. You should also add an option to send money through snail mail, where visitors without a PayPal account can send you a check with their donated money.
Write fresh content on your donation business website, including keywords related to your cause throughout your content, so that search engine users will be influenced to donate. When including keywords on your donation website, use Google Adwords to your advantage by finding keywords with 10,000 to 30,000 global monthly traffic. However, refrain from choosing keywords with over 30,000 global monthly traffic, since this could mean there are too many websites competing for your keyword phrases.
Post images related to your cause or charity in the content of each post and on the front page of your donation business website to further influence visitors to donate. If you can't take your own pictures, use images from Flickr Commons or stock.xchng. Remember to credit your sources when publishing any image online if it is not your own.