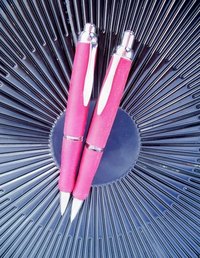 Biro ink is another term for ballpoint pen ink. These pens are popular because of their smooth writing ability and low cost. Additionally, it's possible to buy biro pens in many colors. If you accidentally got ink from a ballpoint pen on leather, one stain removal method works well. However, it depends on how much ink got on the leather, how deep the ink was rubbed into the leather, and how long the stain has been there.
Things You'll Need
Soft white cloth
Cuticle remover gel
Sponge
Wipe down the area with the stain, gently using a clean dry white cloth. Wipe away any loose dirt or dust near the stained area.
Apply cuticle remover gel to a sponge. You'll only need to use a little gel, about the size of a dime.
Scrub the area of the leather that's stained with ink. Use a gentle, circular motion. If you apply too much pressure, you risk ripping the leather.
Mix a solution that contains 1 part liquid dish soap and 20 parts water. Wet a sponge with the solution and clean any excess cuticle remover gel off the leather.
Wipe down the leather with the cloth to remove excess dampness. Allow the area to completely dry for at least six hours.