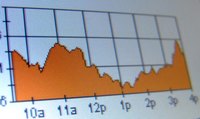 Getting real-time stock data provides professional traders with an advantage, and enables even casual investors the chance to track their portfolios as the market unfolds. A number of Websites offer these services with a paid subscription. However, Websites like Yahoo! Finance and MSN Money do not require any subscription to view real-time stock data from the major markets.
Accessing Real Time Stock Data
Launch an Internet browser and navigate to Yahoo! Finance or Money Central.
Enter the selected website and look for the "get quote" field.
Enter the name or stock symbol of the desired company and press the "Get Quote" button.
Look for the real-time quote. This is found directly below the name of the company on both of the above Websites.
Take note of the data for later use.