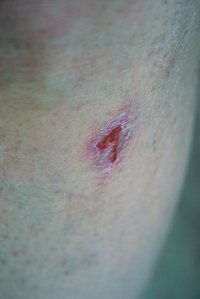 A flesh wound damages the skin, but does not harm the the bone or organs underneath. If you have suffered a flesh wound, proper treatment is the most vital step to a speedy and effective recovery. By quickly cleaning and protecting the wound, you can ensure a proper recovery of the skin and surrounding tissue. Employ the four-step method and calmly get past the trauma.
Things You'll Need
Antiseptic (containing benzalkonium chloride)
Antibiotic ointment
Attend to the wound immediately. You have the best chances of treating the wound effectively by immediately washing it under running water. Be sure the water is room temperature to avoid further damage.
Dab an antiseptic product onto the wound. It is best to apply an antiseptic product that contains benzalkonium chloride.
Let the wound air-dry, then apply an antibiotic cream to the surface of the wound.
Apply a bandage to the wound to keep the skin moist and to protect the wound from further injury. Remove the bandage when you bathe and re-apply the antibacterial cream and bandage afterward. A typical flesh wound heals within two weeks.