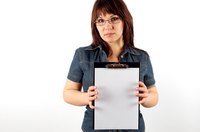 Designing effective training material begins by defining your plan. Once you determine your overall goals, you can list your learning objectives and design activities intended to allow participants to achieve them. Once your design is complete, developing prototype materials and evaluating them with a few members of the target audience ensures that your training material will achieve its intended outcome.
Identify your budget. If you have limited funds, consider designing training materials that will reach a wide audience for a relatively low cost such as web-based training. If you have more money to spend, you can plan more lavish events such as conferences, retreats or classroom training with lab exercises. Plan how to reinforce your training materials with coaching, mentoring and job aids.
Create your training plan. Preparing your training plan should include activities such as identifying your target audience and their current performance levels. By clearly identifying gaps in their skills and knowledge, you can establish training interventions that have the most impact. Identify your sponsors and stakeholders and validate your assumptions with them.
Determine your training goal. Once you know what you are trying to achieve, you can begin the process of researching different potential solutions. For example, if your goal is to improve customer satisfaction by reducing the time it takes to troubleshoot problems, you can document solutions to common failures.
List your learning objectives. State what your students will be able to accomplish when they complete your training. Use an action verb (such as list, identify and match) followed by a description of the activity. Avoid using verbs that are difficult to assess (such as know, understand and appreciate).
Create prototype materials. Decide what media the final product will use, such as a monthly newsletter, classroom training, interactive computer program or video. Use text, graphics, audio, video and animation to provide instruction, reinforce concepts and test for learning and retention. You may want to include supplemental resources for students to use after the training, such as case studies or relevant research. Consider creating ways for students to engage with each other on the subject matter on an ongoing basis, for example, using social media technology such as blogs and forums.
Create a test to determine whether students can demonstrate that they have mastered the material. Typically, write one test question (usually in multiple choice, short answer or matching format) for each learning objective. Decide how to administer the test, such as computer-based or paper-based. Use these test results to validate your design, not test your student's ability.
Evaluate your prototype materials with a small number of your target audience. Distribute an evaluation form to participants and ask them to complete it once they finish taking your training.
Incorporate feedback from your test group to complete the design phase of your training development project.