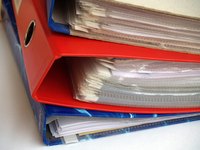 Organizational structures are all people-centered, people-oriented entities. As in all systems or structures that are people-reliant, assessing the people within it is a key area. How and where those people are positioned determines, to a great extent, whether or not they are functioning at their maximum potential. If people are misplaced, the organizational structure suffers. Also, looking at each department individually can reveal if there are backlogs created anywhere along the production cycle. Look to see how the system is functioning as a whole. Are quotas being met? Is the company growing? Are there areas which show need for change and improvement?
How to Assess an Organizational Structure
Ask yourself if you are completely pleased with your company's performance. Look at your performance numbers. They can not lie, if they have been recorded honestly. Be objective. Examine sales figures, company profits, penetration of available market, sales territory performances and growth potential for these established markets, as well as new ones. Take appropriate steps to address uncovered problem areas. Use verbal communication to notify those needing attention. Attach time lines for corrections. Install a system of rewards and reprimands to make sure weaknesses are eliminated. Lay aside personalities and even friendships. Determine whether every department and every employee is at absolute maximum function level.
If your initial assessment shows there is a problem with your structure, admit it and move toward fixing it. Locate two or more areas that need improvement according to the numbers. Do not consider your personal assessment honest or complete until you have named two or more areas that need improvement. Ask yourself if the problem areas are interrelated. Investigate to determine the sources or causes of these identified deficiencies.
Recruit a neutral, unbiased and trusted consultant or firm to do an efficiency assessment. Do not tell your assessor what you have already determined or identify to him the areas you have discovered. Do not pay someone to simply agree with you; let them do their own analysis and report back with their findings and if needed recommended remedies.
Compare your initial assessment with what the third-party assessor has compiled. If they match, you know you have correctly identified what is ailing your organization. If the third party finds everything to be satisfactory, you must then re-evaluate your original findings. Trust the more personally detached assessment. Do not be needlessly hindering your company growth.

Develop corrective measures for your identified weaknesses. Write down specific strategies which address each issue, and the required outcome needed to correct it. Attach time lines for successful completion of your mandated corrections. Use tight time frames for the successful implementation of your correction strategies. Create a sense of urgency on the part of those named. Establish rewards for successful completion of required improvement. Design corrective measures, up to and including dismissal, for failure to correct deficiencies.
Monitor carefully and record precisely the progress of your corrective measures. Adjust and revise your objectives and the strategies to accomplish those objectives as merited. Continue to ask yourself the same question you had to answer in Step 1.