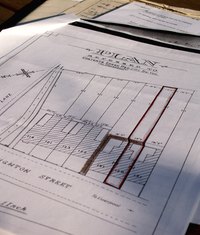 When a real estate property is sold by the owner, he may decide to accept a personal note from the buyer in order to sell the property. The owner then receives the monthly payments from the buyer. Should a need arise for a lump sum of cash at any time during the life of the mortgage note, the holder of the note can sell it. He may be able to get approximately one third of the value of the note in cash. The monthly payments would then be paid to the new holder of the note.
Search the public records at the local courthouse for mortgage notes that are held by individuals rather than banks or mortgage companies.
Place classified ads in the local newspapers advertising that you purchase notes. Also run ads that offer a finder's fee to anyone who makes a referral that results in a sold note.
Create a letter concerning your offer and the process of buying notes and send it to anyone who responds to the ads.
Create a database of the note holders who have received the first letter. If they do not respond, send them a second and a third letter. Wait at least two months between letters.
Continue to place the ads weekly so that the public becomes familiar with your name and your offer.
Send the same letter to persons who have property for sale. Accepting a note may be an option they can consider in the future in order to complete a sale.
Introduce yourself to others in the real estate community. It may result in future sales or referrals.