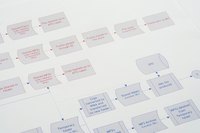 Keeping a business environment organized is a key component for a successful enterprise. Office procedures are the guidelines to that organized environment. By following detailed steps to setup office procedures your team can focus on business rather than items taking you away.
Review current procedures. Understanding current procedures creates a baseline for change. If no procedures were established, writing procedure observations is a good first step.

Gather feedback from employees. Once your baseline office procedures are captured, gather further feedback from co-workers. Ask them, "What should change? What can change? Is the order of the office procedure correct?"
Identify which procedures work. Knowing what works will assist will help your focus on procedures that do not work.
Identify which procedures do not work. Highlighting the areas of improvement, so recommendations can be worked on.
Recommend changes to procedures that are not working. Use the list from the step above and meet with other employees to submit recommendations for changes on procedures that are not working.
Itemize office procedure steps in detail. Now that you have a list of procedures that work and recommended solutions for the ones that don't, write them in detail. Focus on how one process links to the other.
Publish the office procedures to employees. The detailed documentation should be shared with all employees so that everyone can use the office procedures.