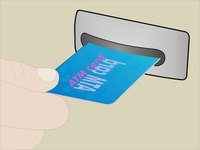 ATM cards provide a convenient service that reduces the need for writing checks. They also give you access to your cash 24 hours a day from ATM machines around the world. If you have to replace your ATM card because it is damaged, lost or stolen, you can can do so by calling your banking institution's customer service number or by going into a local branch office.
Contact your banking institution immediately if your card was lost or stolen. Many banking institutions have 24-hour hot lines especially for this purpose.
Request a new card. This can be done over the phone by calling the customer service department or by visiting a local branch office. It usually takes seven to 10 business days to receive your new replacement card.
Activate your ATM card. This can be done by calling the number listed on the front of the card. Sign the back of it.