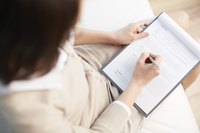 If you want to do business in Florida, you may have to register to collect sales tax. This doesn't apply to all businesses, but if your activities fall into a taxable category, you must have a Florida resale certificate and file taxes quarterly. Business owners can obtain certification quickly by following just a few simple steps.
Register your business. According to the Florida Department of State Division of Corporations, "registering a business in Florida may require an entity to register not only at the state level but also with the local county government." Be sure that you've registered your business with the appropriate government entities before applying for a resale certificate.
Gather information ready to fill out your registration form. Be sure to have the legal name of the business, your federal employer identification number, beginning and ending fiscal year dates, business owner's Social Security number, address and phone number and the physical address of the business readily available.
Fill out the DR-1 business tax application form. You can do this free online or download the form from the Department of Revenue's website. You can also order the form to be sent to you in the mail. If you fill in a paper copy, mail it to the Department of Revenue or hand it in at a taxpayer service center. Remember to enclose the applicable registration fees when you apply.
Receive your certificate. Once you've filed your application, you will receive a DR-11 certificate of registration, a DR-13 annual resale certificate and tax return forms. The certificate of registration must be placed in a visible area of the business.