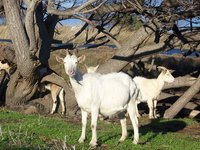 A lot of people enjoy raw goat's milk, and goat milk advocates believe that treating it destroys important enzymes and reduces the nutritional value of the milk. However, if you are uncomfortable about drinking raw milk, it is a safe practice to pasteurize it before consuming it. Pasteurization kills any harmful bacteria in the milk and prolongs its refrigerated life. Pasteurization involves first heating the milk and then rapidly cooling it.
Things You'll Need
Fresh goat's milk
Milk strainer
2 saucepans, one larger than the other
Candy thermometer
Stove
Ladle
Clock with a seconds hand
Sink with a plug
2 jugs of ice water
Sterilized storage jars
Refrigerator
Strain the fresh goat's milk into the smaller of the two saucepans, with a milk strainer. Be careful not to spill.
Turn the stove on to medium heat. Fill the larger of the two saucepans with water at room temperature. Do not fill it to the top, or it will spill when you place the smaller saucepan in it. It should be about half-full. Place this saucepan on the stove.
Clip the candy thermometer to the side of the smaller saucepan. The tip should be submerged in the milk. Ensure it does not touch the bottom of the pan. Do not remove the thermometer at any stage of the pasteurization process.
Place the smaller saucepan inside the larger one.
Heat the goat milk till the thermometer reads 165 degrees Fahrenheit or 72 degrees Celsius. As the milk heats, gently stir it with a ladle to distribute the heat. Monitor the temperature.
When the milk is at 165 degrees Fahrenheit, hold it at that temperature for 15 seconds. Use a clock to help you do this.
Turn off the stove. Pull the smaller saucepan out of the larger one.
Plug the sink and pour in the ice water. Immediately place the smaller saucepan in the sink. Stir the milk occasionally as it cools. Monitor the temperature. It should reach 40 degrees Fahrenheit or 4 degrees Celsius.
When the milk reaches the required temperature, take the saucepan out of the sink and unclip the thermometer. Carefully pour the milk into the sterilized storage jars. Refrigerate immediately.