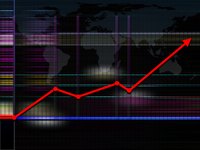 Many investors try to speculate in the stock market but are confused as to how to actually make a higher return doing it. Speculation relies on the direction of the overall stock market instead of the stock's true value. Many aspiring stock speculators don't know how to speculate stocks, but by following a few simple steps you can do it profitably.
Things You'll Need
Investor's Business Daily Sunday Edition
Computer
Speculation In The Stock Market
Turn to the Market section of the Sunday edition of Investor's Business Daily. Look up the stock sectors for the stock market and select the sector with the highest Relative Strength, or RS, score. This relative strength is scored 1 through 100 and is a comparative indicator between the sector's performance and the general market as a whole.

Look up the stocks that make up that sector and write them down. Next, look up their RS scores and make note of them.

Pull up a stock chart on your computer using a free service like FreeStockCharts.com and input "SPX" which stands for the S&P 500. The S&P 500 is an index of the largest publicly traded companies in the U.S.
Click the indicator button and select the Simple Moving Average, or SMA. Input the value of 200 in the SMA so that a 200-day SMA will appear on the screen with the S&P 500 Index. If the S&P 500 is trading above the 200-day SMA then the market is bullish, or trending upwards, and fit for speculative opportunities.

Check your stock list for stocks that are also trading above their 200-day SMA. Make note of them.
Wait for the stocks on your list to make a new two-month price high. When price pulls back, then place a buy order 1 point above the new two-month price high. Once the stock's price trades upwards and through that price high, the buy order will automatically take a position as the stock resumes its bullish trend.