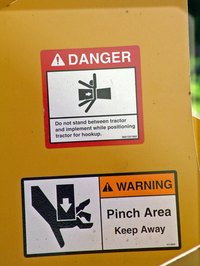 Maintaining workplace safety is important in reducing on-the-job injuries and costs related to lost time. Put safety regulations in place and keep accurate records of safety training and workplace injuries. Make sure your organization follows Occupational Safety and Health Administration standards and regulations.
Put effective measures in place to prevent workplace injuries. Implement on-the-job safety training for employees. Visit the Centers for Disease Control and Prevention website to learn about federal and state regulations related to workplace safety, such as wearing protective eyewear when hazards exist. Appoint a safety manager to involve all employees and managers in safety plans.
Examine workplace areas for hidden safety dangers, such as chemical hazards. Keep safety equipment, such as machine guards, in a designated place. Immediately fix any troubles with equipment. Document problems with equipment or employees, as well as the solutions used to resolve the dilemma. Look for repeating safety issues, and make sure measures are taken to prevent future occurrences.
Outline procedures for maintaining workplace safety. Post safety procedures in areas that employees can access. Hold staff meetings to discuss safety procedures with employees. Conduct regular inspections to ensure safety regulations are being met.
Form safety initiatives to maintain workplace safety. Create rewards for employees who achieve zero accidents that otherwise would cause an employee to lose time on the job. Provide incentives such as recognition awards, customized clothing and gift cards.