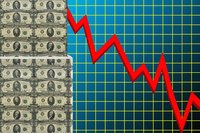 Increase labor productivity and company profits in manufacturing while empowering employees, maintaining or improving quality and reducing late shipments. Establish a starting point, implement programs championed by employees, and monitor productivity progress.
Things You'll Need
Stop watch
Microsoft Excel
Gift cards
Company logo apparel
Time each step in the manufacturing process, in minutes or hours, using a stop watch while counting the number of pieces of product produced by each step. For example, a machine that cuts the hole in the middle of a compact disc is timed and cuts 100 holes per hour.
Plot a chart using Microsoft Excel to show each step in the assembly line and its productivity versus time. This is the baseline or current state for that machine. All changes to that machine will be compared to its baseline to see if improvements were made.
Focus on the bottleneck steps in the manufacturing process. These are the steps with both the highest time input and lowest product output. Improving these steps will provide the best opportunity to improve productivity. For example, if an assembly line can turn out 100 parts per minute, packing can pack 20 parts per minute, and shipping can load 100 parts per minute, then packing is a bottleneck.
Split a step into two or more smaller steps, each with less time input but with the same or more product output as it was in the baseline. For example, it takes a worker two seconds to place a cover on a DVD player. It takes the next worker 20 seconds to place four screws in the cover and tighten them down. Labor productivity could be increased by the first operator placing the cover on the DVD player and placing the four screws in their holes in 10 seconds. Now the second operator only has to tighten them down, which takes only 15 seconds. Productivity between the two steps has been increased by 5 seconds.
Upgrade existing equipment or purchase new equipment to improve the process flow. For example, the packing worker could only pack 20 parts per minute because the worker was picking up a part, rotating, and then bending down to place the part in a box. A curved roller style conveyor to better bring the parts to the packer and a lift to raise the packing box to work level would increase labor productivity.
Eliminate or speed up quality control steps in the process that require approval before remaining steps can be completed. For example, a worker is mixing chemicals in a 1,000-gallon tank to produce dark blue paint and a quality technician needs to approve the tint of the color before another worker can begin filling paint cans. This quality check takes 10 minutes. During this approval time, production has been halted. By installing in-line color meters that read pass or fail within one minute, workers can begin filling paint into cans sooner.
Create process improvement teams championed by employees to address areas of low productivity. The team's goal is to meet monthly, time each step in the process, recommend ways to speed up the steps, and then implement those recommendations.
Provide incentives, company apparel, company-paid lunches, or gift cards for employee involvement, team participation, and setting new productivity records. When production increases the company makes more money, but the employee will wonder what's in it for her to work harder and faster. Incentives and rewards encourage employees to compete with one another and improve their productivity.
Establish bonuses and pay raises based on productivity to empower employees and management. Offer 5 percent of company profits divided among the total number of employees or offer a quarter percent raise for each 1 percent of total productivity increase.
Report productivity using a graph and post it in a common gathering area or on a message board on a monthly basis to allow all workers to see their progress.