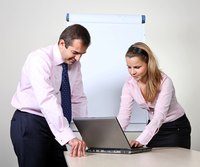 You don't need a lot of money to start your own public relations firm; you only need a strong business plan, above-average communications skills, a computer and a telephone. Careful planning and the desire to succeed can help ensure your success as a PR expert.
Things You'll Need
Choose a name for your PR firm that is easy to remember. Whether you choose an elegant, upscale name or a catchy phrase that will make a great logo, choose carefully so that you will be content with it for years to come. Pay fees for business licenses at the city and county levels of government. Hire an accountant to handle your bookkeeping needs.
Design and purchase business cards and business stationery. Consider developing several different styles of cards and stationery if you will be working with different types of clients.
Choose a target base for your start-up operation. Use a geographic area, type of industry or size of group to define the clients you will initially target. Input information about potential clients into a database or spreadsheet on your computer. Include business name and address as well as contact name and phone number. Set the database functions to sort the potential clients by size, alphabet or other criteria that will help you as the business grows.
Develop media connections locally, regionally and nationally, depending on your need. Call the various outlets and obtain the public relations contact person's name. Mail or email a prepared media package to that person. Follow up with a phone call introducing your firm and ask what the outlet's deadline day is and how they would like PR material on your clients transmitted to them. Input all the information into a database file for media contacts.
Join local civic and professional groups to promote your firm and network with businesses. Groups such as Sertoma, the Chamber of Commerce and others provide the opportunity to network and meet potential clients. Offer to handle the public relations for the group during upcoming events so you can demonstrate your ability to get the word out.