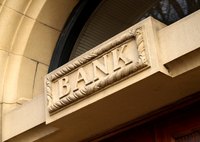 Setting up your bank accounts to handle bank-to-bank transfers makes all of your accounts more useful and gives you instant access to your money. While setting up those bank-to-bank transfers is not difficult, it is important to follow the procedures put in place by the bank. Banks use a verification process to ensure that the transfers are legitimate and not part of a scam. By monitoring your bank accounts and following the activation process, you can set up interbank transfers and move money without ever entering a bank branch.
Things You'll Need
Log on to your bank account and click on the "Transfers" section. Choose the external account option to link or add another bank account.
Enter the routing number for your external bank account. Verify that the routing number is correct before moving on. Enter your account number, making sure that it is correct. Add any other requested information, such as the name of the external bank and what type of account it is. Your bank may offer several ways to verify the external account, including immediate verification or two- to three-day verification.
Wait a few days, then log on to your external bank account. Look for two small deposits, each for less than a dollar. Write down the amounts of these two deposits.
Log on to your other bank account and go back to the transfers section. Find the bank account you need to activate and click the "Activate" button. Enter the amounts of the two small deposits to activate your account. After the amounts of the trial deposits have been verified, your account will be available for transfers.