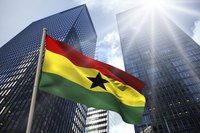 Ghana has proven to be a strong and growing market for U.S.-made products. A 2012 study by the Nielsen Emerging Market Insights survey shows the growth is being driven by mid- to high-income consumers. U.S. businesses looking to expand into this region will have to follow the procedures laid out by the Ghanaian government to get approval to start a business in the country.
Start-up Requirements
A business owner will have to create an exclusive name for his company, obtain a tax identification number and an incorporation certificate from the Registrar-General's Department and the Ghana Revenue Authority. The business must have at least two directors. One director has to be a resident of Ghana, have a sound mind and be 21 years old or older. The Commission of Oaths substantiates the corporate forms submitted in a start-up application prior to the Registrar-General's office issuing a certificate to commence business.
Additional Requirements
A depositor paid-in account is required showing how much money equity holders have invested in the business. The business then applies for a business license from the Metropolitan Authority. Documents to apply for a license vary according to the type of business being established. The MA will typically inspect the business location on behalf of the Revenue Mobilization Subcommittee of the Metropolitan Authority. Businesses may then apply for inclusion into the Ghana Social Security system by providing a list of all its workers, their salaries and Social Security numbers, along with its certificate of incorporation and certificate to commence business.
Traveling to Ghana
U.S. citizens traveling to Ghana are required to have a valid passport, a return ticket and a visa issued by the Ghanaian government. Travelers are also required to have a certificate to prove they have received a vaccination to protect themselves from yellow fever. Visas are issued through Ghanaian embassy consular offices in Washington, D.C and New York City, or the Honorary Consulate in Houston, Texas. Business travelers are required to have a letter of invitation from principals in the U.S. or Ghana before they are allowed entry into the country.
Non-citizen Ghana Card
If you are planning to spend at least 90 cumulative days in Ghana during the course of a calendar year, you will normally be required to register with the National Identification Authority of Ghana to obtain a non-citizen Ghana card. The card is needed for all transactions requiring ID like obtaining work permits and opening banking accounts. Individuals need to register in person at a Registration Center and will usually have to bring their passports and resident permits.