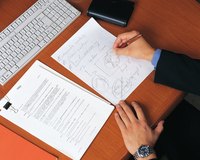 As a major trading nation with excellent links to continental Europe and a skilled workforce, the U.K. offers a highly attractive environment for conducting business. The legal process of setting up a business in the U.K. is relatively straightforward, but you will need to ensure that your business plan is viable from both a strategic and financial perspective in order to maximize your chances of success.
Things You'll Need
Business plan (you can find templates online)
Form IN01
Memorandum of Association
Articles of Association
Develop a business plan. Identify your competitors and market conditions; decide how you will advertise, how you will finance and operate the business. You should determine how many employees you will need and what particular skills they should have. The business plan is extremely important as it evaluates the viability of the business and can therefore be used to attract investment from third parties (banks, etc).
Decide on a unique name for the business and check its availability at the company names index database on the Internet (see Resource section). You should choose a name that differentiates your business from competitors.
Fill out Form IN01. You can fill out this form by yourself, but many people decide to do this with the assistance of a solicitor. Details to be included in the form include proposed company name, location of business and details of the business's directors.
Fill in the Memorandum of Association for your business. This contains the names and signatures of the subscribers that wish to form the company. You can purchase a template from a legal stationery shop for about five to 10 pounds.
Fill in the Articles of Association. This gives details of the company's internal management affairs.
File the IN01 form, Memorandum of Association and Articles of Association to Companies House in Cardiff, Wales. The cost is 20 pounds, payable by check or postal order.
Contact HM Revenue & Customs. The HMRC will register your business for VAT. You can also register for pay-as-you-earn (PAYE), which will automatically deduct taxes from employees' wages.
Obtain employment and public liability insurance. The Employers' Liability (Compulsory Insurance) Act 1969 requires that proof of insurance be posted at the workplace. You should also consider obtaining public liability insurance, particularly if your business premises are open to the public.