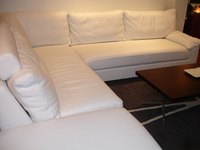 Various factors take place when remodeling and redesigning a salon space. It requires a significant investment so careful planning and decision-making is key. One of the biggest trends is to "go green." You can save money and create a welcoming atmosphere that keeps clients coming back while creating an environmentally friendly salon space. For inspiration, look no further than nature and the seasonal elements.
Things You'll Need
Decide the color scheme for your salon. Color has been found to greatly influence the body and mind. Earthy tones and wood accents create a calming atmosphere, while vibrant colors, metal and glass accents create a lively, energetic atmosphere. Color also affects the way clients perceive the length of their visit. Bright hues are stimulating and create a faster pace, while softer colors slow down movement, creating a calm and relaxed experience.
Use color to link together the different parts of the salon. Color is a major stimulus that affects people physically, emotionally and psychologically. The ceiling, walls and floor take 80 percent of the color needed for a salon, while the remaining 20 percent is used for accents and furnishings.
Use the 75/20/5 percent rule when deciding the color scheme. There are many variations of color schemes, from complementary to monochromatic colors schemes. Complementary schemes are a based on opposite colors on the color wheel; monochromatic schemes use a variation of hues from one color. In the 75/20/5 rule, the main color is 75 percent of the space, the complementary variations of the main color are 25 percent, and 5 percent of the colors are for accents. Use materials to give character and enhance the color of the design, such as natural fibers, glass, woods and stone.
Maximize your space. The key to maximizing space in the salon is organization. Design an orderly, functional work space by incorporating multifunctional equipment and furniture. It takes effort and repetition to keep the space organized. Maximize the space by expertly rearranging the salon's furniture and equipment while following a prioritized wish list. Consider foot traffic patterns as well how employees work and relax during their workday. The reception desk, retail area, styling areas, shampoo areas and other work areas also need to be considered when designing your salon to maximize the space. The reception desk is the heart of the salon, so make it a prime focal point of the design.
Purchase the salon furniture. The equipment and furnishings needed for a salon will quickly add up, making it one of the most important investments in the salon. Visit showrooms and see the options in person to assure they are good quality. Research and check dealer references. Furniture dealers should be able to provide service when needed and show that their equipment is durable for several years. Plan ahead; always begin the purchasing process at least three months prior to opening day. Remember that good quality in all aspects of your business drives return customers.