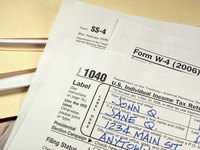 If you are a self-employed individual who uses your home for business purposes, then you can deduct certain expenses by using IRS Form 8829. Only taxpayers using a Schedule C to report their income are eligible to use Form 8829 to deduct expenses for the business use of their home. Taxpayers may only deduct expenses for the business use of their home if their home regularly is used for administrative and management tasks or inventory storage. Form 8829 may only be one page long, but filling it out can be complicated.
Determine how much of your home is used for business purposes. Lines 1 to 3 compute the percentage of home expenses that are attributable to the business. Lines 4 to 6 are only used if you run a home day-care. Line 7 will be the same as Line 3 if Lines 4 to 6 don't apply to you.
Fill in Line 8 with the amount of income derived from the business run out of your home. This figure will likely be the same figure as your gross income on your Schedule C.
List direct and indirect expenses. Direct expenses are expenses directly related to the business such as the painting of an office. Indirect expenses are expenses the entire house bears, but that have a business component, such as an electric bill where some of the power is used for lighting around the home and some is used for running the business computer. For indirect expenses, you will only deduct the portion of the expense attributable to the business. You will total your expenses on Line 35. This is the amount entered on your Schedule C.
If you own your home, Part III (Lines 36 to 41) allows you deduct the depreciation of your home. You will need to know the current fair market value of your home, as well as your cost basis for the land and building, when filling out this section. This section will also refer you to an IRS table in the Form 8829 instructions to complete Line 40.
Calculate 2010 carryover. Lines 42 and 43 determine whether expenses incurred this year may be deducted the following year or not. This would typically happen if the business is run at a net loss, has a casualty loss, or shows extensive deprecation for the year.