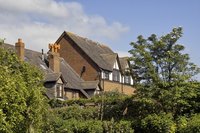 You can borrow money to pay your taxes from a variety of sources, including accepting installment plans from state and federal government. Other possibilities include signature loans and other unsecured and secured loans. Unsecured loans are guaranteed only by your signature, while secured loans are guaranteed by collateral, such as real estate.
Use your credit cards. State and federal governments accept tax payments by credit card. Check the IRS website or your state Department of Revenue website for directions on how to pay with your card. The IRS and states use several vendors to collect payments by credit card.
Take out a bank loan. Apply for a signature loan and used the proceeds to pay your taxes. Apply as you would for any other unsecured loan by visiting the bank's website or in person.
Tap into or take out a home equity loan if you're a homeowner. Apply through your mortgage company or bank. You'll need sufficient equity in your home to qualify. Equity is determined by subtracting what you owe on the home from the bank-appraised value of the home. According to the Federal Trade Commission, banks will generally lend you up to 85 percent of that amount.