Half-finger gloves, also known as fingerless gloves or mitts, are a cool, stylish way to wear mittens or gloves during the cold winter months. These gloves come about halfway up the fingers, but they leave your palm and wrist warm and cozy. Your fingers are accessible, so you can still use them. Get money from your wallet or write a text on your cellphone -- accessible fingers make the world a more efficient place.
Numerous knitting patterns for half-finger gloves are available, but I've included a simple pattern to get you started. The pattern is knitted on double-pointed needles, but a circular needle can be used as well. I have small hands, but you can always increase or decrease to achieve a custom fit.
You'll need to how to cast on (CO), knit (K), purl (P), M1R (make one right), M1L (make one left), knit two together (K2tog), bind off, pick up stitches, and work in the round on double-pointed needles.
Things You'll Need
Yarn (I used bulky weight)
Double pointed needles (dpns) size 6.5mm (set of 4 or 5)
Stitch markers (pm)
Scrap yarn if only using 4 dpns
Tapestry needle to weave in ends
Step 1: Glove Body
CO 24. Round 1 through 7: Begin K2, P2 ribbing around. Repeat this round for a total of 7 rounds.
Round 8 through 11: Knit.
Round 12: K3, pm, M1R, K1, M1L, pm, knit remainder of round.
Round 13: Knit.
Round 14: K3, slip marker, M1R, K3, M1L, slip marker, knit remainder of round.
Round 15 and 16: Knit.
Round 17: K3, slip 5 sts on waste yarn or extra dpn, CO 2 sts, knit remainder of round (25 sts).
Round 18 through 25: Knit.
Round 26: Knit around until two stitches remain, K2tog (24 sts).
Round 27 and 28: K2P2 ribbing around. Bind off.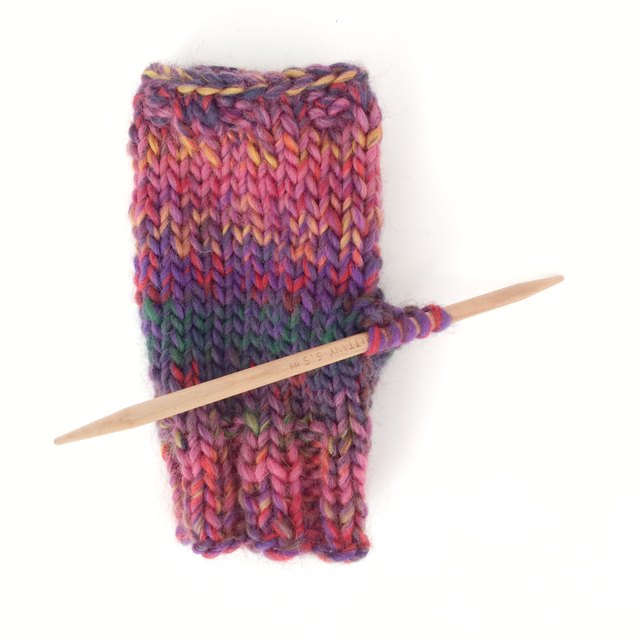 Step 2: Glove Thumb
Pick up four stitches around the thumb gusset. Divide these stitches and stitches from scrap yarn/dpn on to three needles. Knit 3 rounds. K2P2 for two rounds. Bind off. Make another glove exactly the same, and you have made a pair!