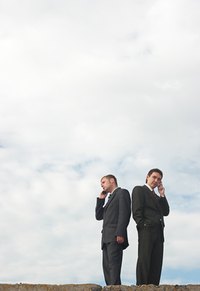 An executive cannot afford to stutter in front of the press, fail to answer sensitive questions and create a perception of a cover-up. Poor stakeholder communication can derail projects and damage an entire company. Stakeholders are any "group or individual who can affect, or is affected by, the achievement of a corporation's purpose," according to the International Development Research Center. Improve communication, reputation, management and success by engaging and winning the trust of stakeholders through open dialogue.
Identify the most important stakeholders: your customers, investors, suppliers, employees and members of your community. Find out their importance and influence, what networks they belong to, if they wear multiple hats and what the relationships between the groups are by conducting market research.
Create an open door policy to discover information and facilitate sharing. Invite comments and questions, send out surveys or hold focus groups to determine their needs and define the issues that matter most to them. Gather and update contact information on your stakeholders, too.
Interact with stakeholders using appropriate communication channels. If they have a preference for email, use email to contact them. Train key spokespeople on how to deal with the media when answering questions on sensitive issues. Be prepared.
Address stakeholder needs and issues in your communications to them. Respond thoughtfully and honestly. Acknowledge significant problems, clarify and interpret any issues that may arise to reduce potential conflict.
Provide a consistent message that "constantly refers to corporate ethics and values," according to PR-inside. Reinforce your reputation and your brand in the minds of stakeholders through this messaging.
Benchmark best practices as a business strategy for communication improvement. Study what the best in the industry are doing to communicate with their stakeholders by looking at corporate websites, news stories, and research articles. See what your competitors are doing, too.
Establish an internal benchmark against which successful stakeholder communication will be measured such as creating an event that is attended by a specific number stakeholders. Plan future stakeholder communications using these benchmarks as a control mechanism.