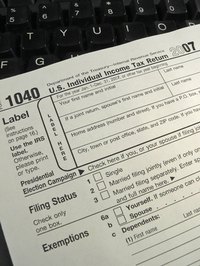 Filing income taxes online is becoming more popular every year. With the option to e-file (filing tax forms online) and to have your refund deposited directly into your checking or savings account, you can receive your tax refund in a matter of days instead of waiting weeks for a check. You can also choose to prepare and file your return through either the IRS website or a tax preparation website, such as TaxACT, Turbo Tax or Tax Slayer.
Things You'll Need
W-2 forms for each income from the past year
Online tax forms or tax preparation software
Checking or savings account and routing numbers
Email address
Fill in the names and Social Security numbers of all your household members, including children.

Add your income information using your W-2s from your job(s). If you are using a tax preparation website, it will walk you through putting the information in the right spaces. On the IRS website, the 1040 form (standard form for tax returns) has instructions on where on the W-2 to find the necessary information.

Fill out deductions and information on the taxes you have paid. Tax preparation websites will walk you through this portion as well. The 1040 form on the IRS website also offers some help in filling out the form as well as detailed instructions.

Request an e-file PIN code from the IRS website. To do this, click the "Request an E-file PIN" link on the home page. Fill in the requested information, and you will receive your PIN in an email.

E-file using the PIN provided. With tax preparation websites, there is an e-file fee that must be paid to file online. You can pay with your debit/credit card or checking account. Tax preparation sites also allow you to have the e-file fee withdrawn from your refund. If you use a tax preparation service, you will have the option to continue with your state return at this point.

Choose to either receive a refund check by mail or have your refund deposited into your checking or savings account. The time frame you can expect to receive your refund will be listed next to each option. If you choose to have the money deposited directly, you will fill out your account and routing numbers in the boxes provided.