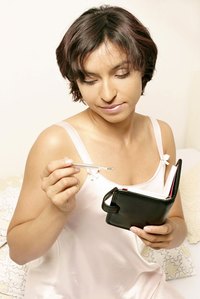 The luteal phase is the portion of the menstrual cycle that occurs after ovulation until the next period begins. This phase is a type of preparation for the egg, which may or may not become fertilized during ovulation. If the luteal phase does not last long enough, a woman may have decreased fertility, as the egg may not be able to implant itself in the lining of the uterus. This can result in miscarriage of the fertilized egg.
Things You'll Need
Basal body thermometer
Basal body temperature chart
Regular Cycles
Mark the first day of your last period on a calendar.
Count forward 14 days from the day you marked. This should approximate the time of ovulation based on a typical 28-day cycle.
Consider the 14th and 15th days of your cycle as the time that you will most likely be ovulating. Some women can tell that they are ovulating by noticing pelvic soreness on these days.
Count forward 13 to 15 days after your ovulation to estimate the luteal cycle.
Irregular Cycles
Track your menstrual cycle for several months to determine the length of your average cycle. For some women, it may be shorter (20 to 25 days), whereas for other it may be longer (29 to 40 days).
Use a basal body thermometer throughout the month to chart your temperature. You can purchase these thermometers from most pharmacies. You should take your temperature the same time of day, preferably before you get out of bed. Keep a record of your temperature each day.
Note patterns concerning your body temperature. Most women's body temperature increases slightly (approximately 0.4 degrees) just after ovulation.
Estimate your luteal phase as the time between your temperature spike and the first day of your next period.