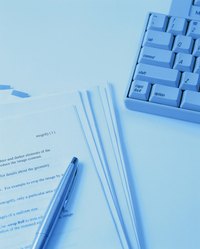 A business yearbook helps create posterity for your business, marketing information for your customers and incentives for future employees. Although they take time, creativity and writing skills to produce, they can quickly become an indispensable marketing and recruitment tool.
Things You'll Need
Make your yearbook interesting to read
Choose a theme. Binding and laminating expert Jeff McRitchie suggests meeting with your managers and employees for two or three brainstorming sessions. Have one person write down the ideas. Devise a theme. Once you decide on a theme, it will be easier to choose photos and write copy.
Develop a production time frame. Yearbooks should feature 12 months of photos. The month prior to each one you need to shoot photos, write a planned photo guide. Include details of the types of photos you're going to take, where those photos will be taken (inside or outdoors) and which subject or subjects are needed for each shot.
Hand out copies of the guide to employees and managers. Delegate who will bring needed props and delegate one person each month to verify the props and preparation for each photo. Write and proofread your copy each month around your photo montage. After 12 months, you will have everything you need to quickly lay out each page.
Map out the photos you want to use. Pick photos for the collage you will use on each page. Common photo sizes for collages include 3 x 5, 5 x 7 and 4 x 5 inches. A nice collage contains a mixture of sizes. Practice organizing the collage in an interesting fashion on a piece of paper without gluing down the photos until you find a layout that works.
Write the copy to accompany the photos. Include explanations of each photo's content. For example, if you have your employees dress up for Halloween, write down the first name of each employee pictured and the costumes displayed. If you have a photo of an employee handing a brochure or giving helpful information to a client, the sample copy could include: "Our valued customer gets sales information from Brad." Place your copy either above, on the side or the bottom of the photo it describes.
Assemble your pages. If you want an 8 x 10-size yearbook, lay out your photos and copy them onto standard typing or printing paper. Use rubber cement to secure the photos to the page; this will allow you to easily move them around if you need to later.
Find a reputable binding company. Local binding companies usually have an online listing under binding, printing or magazine printing companies. Contact local binding companies in your area. Ask for references for each company or ask to look at samples. Larger companies may have a salesperson who can come to your business and bring samples of yearbooks.
Ask them to explain the different binding processes. For example, you might choose comb binding, which uses round plastic spines to collate the pages. Another option is thermal binding, which is similar to the binding often used on hardcover books. Discuss the pros, cons and pricing of each option. The type of binding and the binding company you choose should be determined by your budget and which company you believe will provide the best quality product that fits within your budget.