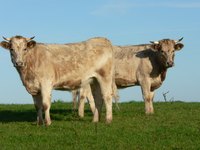 Raising cattle is big business. According to the Department of Agriculture, the United States is the largest producer of beef in the world. The USDA 2007 Census of Agriculture recorded 59,897,763 beef cattle and 17,199,704 dairy cattle on the hoof in this country for that year.
Successful management of a cattle business requires similar techniques as managing a brick and mortar business, but adds some additional considerations. Cattle and their forage are both living entities, requiring specific approaches in management, making managing a cattle business both a challenging and rewarding endeavor.
Develop a management plan. According to Pat Bagley, Ph.D. Professor and Head of Agricultural Sciences at Texas A&M University, a written plan outlines the goals for your cattle business and keeps you focused. Include long- and short-term goals along with specific methods for achievement. Review the plan periodically and make adjustments to the operation and the plan as required. Include budgetary information: equipment purchases, fencing and structure costs and maintenance, and costs to purchase and maintain cattle. Incorporate risk management in the plan: how to handle disruptions in feed supplies due to inclement weather, unexpected replacement cost for cattle culled due to disease or non-productivity or increases in supply costs or taxes.
Determine your pasture and forage capabilities. Cattle spend the majority of their outdoor time foraging, and successful forage management is key to managing your cattle business. Determine the type of soil your pasture has by having it tested. The USDA recommends testing your pasture soil every three to five years. University extension offices can provide testing kits and instructions for soil sample collection and can process your soil samples. Based on the results of the soils test, you can determine what forage crops will be successful for your conditions and develop a program for pasture and forage maintenance specific to your needs.
Contact local agricultural agencies and university extension offices. Local organizations offer valuable assistance in pasture and forage management and soil testing, along with establishing planting and fertilizing schedules. Enroll in continuing-education courses in business management, marketing and herd management.
Purchase the highest-quality cattle you can afford. Look for genetic traits that support your business goals, such as beef cattle that produce offspring which gain weight quickly and consistently. Cattle purchase prices can fluctuate; research seasonal prices to determine the best time to purchase your cattle. Research and locate reputable breeders using breed-specific databases, such as those found at the American Angus Association website for purebred Angus. County and local university extension offices frequently list local breeder's associations as well. When you have located a breeder, verify that the breeder's health maintenance program and vaccinations are current for the cattle you intend to purchase. Retain copies for your own records.