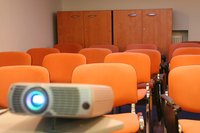 PowerPoint Presentations loaded from PPT files are excellent ways to explain departmental activities to anyone. PPT presentations can be customized to fit any audience and offer a large number of default effects, templates and tutorials that make creating a simple presentation very quick and easy. The presentations can be configured as standalone applications or used in conjunction with a live presenter to add impact to the presentation.
Things You'll Need
Microsoft PowerPoint 2007
Summary of departmental activities
Graphics
Computer
Computer monitor, TV, or projector
Prepare the Presentation
Divide the text summary of departmental activities into blocks of related text.
Create "bullet points" of the main points in each text block and save them to a word processing document or notepad file.
Open Microsoft PowerPoint 2007. The default settings will open a new presentation automatically.
Choose the theme for the presentation from the options under the "Design" tab.
Click "New Slide" under the "Home" tab to add blank slides to the presentation. Add the same number of blank slides as blocks of bullet points created.
Copy and paste the groups of bullet points to the slides in the presentation. Each group of bullet points should be pasted on a separate slide.
Insert any pictures or graphics that will add to the effectiveness of the bullet points. Choose the appropriate media type from under the "Insert" tab and follow the onscreen instructions.
Choose the animation effects and slide transitions most appropriate to the presentation from under the "Animation" tab.
Test the presentation to verify the settings and design. Select the "Slide Show" tab and press "From the Beginning."
Click the circular Office icon in the upper left and select "Save As" then "PowerPoint Show."
Save the file to the hard drive or a removable memory storage device.
Presentation
Connect a computer to a computer monitor, TV or projector and turn on both devices.
Open the presentation file from the hard drive or removable media storage device.
Begin the presentation with a brief overview of the department and its team members, achievements or other pertinent information.
Start the slide show by pressing the space bar on the keyboard or using a remote control if available.
Narrate each slide using the cues created by the animations chosen and the bullet points being presented.