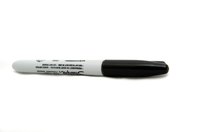 Children just can't resist the urge to draw on themselves whenever a marker is handy. Adults can get permanent marker on themselves as well. Absentmindedly putting the wrong end of a marker in your mouth or running your hand across wet writing will leave a telltale mark on your skin. Thankfully, permanent marker is not so permanent on skin. With the proper tools, that marker comes right off.
Things You'll Need
Wet the marked area with water.
Apply a small amount of hand soap to your fingers.
Rub the marked area with the hand soap in circular motions until you see the soap start to turn black.
Wash off the area with water.
Pat the skin dry with a clean towel.
Soak a cotton ball with the baby oil.
Press the cotton ball onto the marked skin.
Gently blot at the area with the cotton ball until the marker comes off the skin and shows on the cotton ball.
Discard the cotton ball once it is mostly black in color.
Repeat with a new cotton ball until there is no marker left on the skin.
Wet the skin with warm water.
Gentle cleanse the area with the hand soap to remove any baby oil residue.
Pat the skin dry with a clean towel.