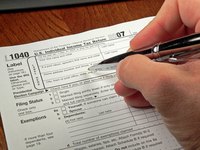 When Congress passed the Housing and Economic Recovery Act of 2008, it allowed families and individuals who purchased a new home between April 8, 2008, and Jan. 1, 2009, to receive a tax credit up to $7,500. This law was amended and expanded by the 2009 Worker, Homeownership and Business Assistance Act. The amended law increased the available tax credit to $8,000 for first-time homebuyers, $6,500 for longtime homeowners. It also extended the time in which a person can claim the tax credit to April 30, 2010.
Things You'll Need
You need to have purchased a new home, to be used as a principal residence, before April 30, 2010. A "principal residence" is your permanent home address. Vacation homes and investment properties will not qualify for the credit. The term "purchasing" refers to "entering into a binding sales contract" to buy a new home. It does not mean that your closing must have occurred by April 30, 2010.
Obtain and complete the Internal Revenue Service's Form 5405. A copy of this form can be downloaded in PDF form from the IRS's website (see Resources). On Form 5405 you will need to provide the address of your new home, your Social Security number, the date your home was purchased, whether you are a member of the military, whether you purchased your home from a relative, the purchase price of the home and whether you are a longtime homebuyer or a longtime resident.
Submit Form 5405 from Step 2 and required documentation with your annual tax filing. If you are applying for this credit, you will be required to submit a paper tax return, as opposed to filing an electronic return. Additionally, you must attach documentation to prove your new home purchase. Documentation could be in the form of a settlement statement, an executed retail sales contract or a copy of a certificate of occupancy. After your tax return is filed, you can expect to receive your tax rebate check (credit included) within four to eight weeks.