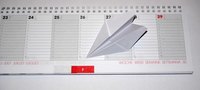 Many businesses, especially in the service industry, find it useful to hire a number of part-time employees. Part-timers aren't eligible for benefits in many cases, so the company will save money by not having to pay for health insurance. There is also a greater flexibility in being able to schedule more people with fewer shifts, although making the schedule itself is more complicated. Divide the workday into a number of shorter shifts, and you can successfully rotate a large crew through the workplace every day, while still maintaining a part-time schedule.
Things You'll Need
Crew availability schedule
Make a list of the availability for every employee. A part-time schedule at a large workplace can be very complicated, so emphasize to your employees that they must be available at any time they have indicated on their worksheet, every single week. This will eliminate problems with staffing in the future.
Divide the workday into four-hour blocks. If you are open 12 hours a day, you will have three shifts. A 16-hour workday calls for four shifts. Make a blank schedule with these shifts designated for each day in the week.
Place employees in shift blocks on the schedule, keeping their availability in mind. Begin with the workers with the least amount of availability, because these people are often only able to work certain days or hours. Fill in the rest of the spaces with people who have more flexible availability.
Schedule shifts to begin at least 15 minutes before the shift change and to end 15 minutes afterward. This will help in the transition from shift to shift and will eliminate some stress if a worker is late in coming in to cover another person's spot on the job.
Aim to give each employee five shifts per week. Some workers may not be able to work that many hours due to school or other outside responsibilities, but make the shifts as even as possible in number of hours. This leaves open the possibility of adding an extra shift to someone's schedule as a reward for good work or in incentive contests.