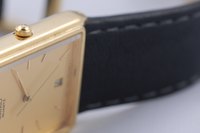 Fossil watches carry a warranty for 11 years from the date of purchase. Defects in the materials or manufacturing of the watch are covered under the warranty and spelled out in the terms and conditions. Watch movement, hands, and dial are the only components covered under warranty. Fossil watch bands are not covered under the warranty. However, broken watch bands can be sent in for repair at an additional cost to the buyer.
Things You'll Need
Things you'll need:
Broken watch
Original sales receipt
Watch repair form
Payment
Fossil Watch Repair
Go to Fossil's website. A link under product information for warranty and repairs is highlighted on the left-hand side of the screen. Terms and conditions of the watch's warranty details are listed on the page as well as Fossil's repair information.
Scroll down to find the link to download the Fossil repair form. The repair form will open in a new window; complete the form directly on the screen. To ensure accurate repair, give a full description of the problem. Changes to the online form cannot be saved once the document window is closed. Have access to a printer to print the completed form or be prepared to return at a later time and reenter all necessary information.
Print out the completed Fossil repair form. Be sure to include accurate phone and mailing information in case Fossil needs to contact you during the repair process period. Fossil watch bands are not covered under warranty. Sending watch bands in for repair is an additional cost. If more than one watch band needs repairing, complete a separate form for each watch as well as include payment for each additional repair.
Include the sales receipt from the original watch purchase. A check, money order, or credit card payment of $27 (U.S.) is required to pay for the watch band repair, since it is not covered under warranty. The $27 includes the costs of return shipping and handling. Do not send cash through the mail.
Mail the completed Fossil repair form along with the entire watch; include the broken band and the $27 repair payment to the address provided by Fossil. Send the package to the Metro Service Center, a company contracted to handle Fossil's watch repair. Use an insured form of mailing in case of loss or theft. Do not send original packaging.
Wait four to six weeks from the date the watch and broken band was mailed. The repaired watch will be returned via mail by Metro Service Center.