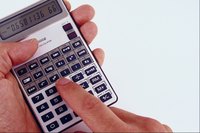 FHA streamlined refinances have been around since the early 1980s. The term "streamlined' is used to describe the reduced amount of paperwork these loans require, not the cost involved in purchasing one. If you already have an FHA loan, you are current with you payments, and the refinance reduces your monthly principal and interest payments, you can apply for a streamlined FHA refinance. There are two types of streamlined refinances: with an appraisal or without. Each one is calculated differently.
Streamlined Refinance With an Appraisal
Find out what your existing principal balance is. You can find this on your latest mortgage statement. Subtract the refund of the Upfront Mortgage Insurance Premium (UFMIP) and add the new UFMIP you will be charged for the refinance loan. An UFMIP is an insurance premium FHA borrowers must pay within 10 days of the mortgage closing.
Calculate 97.75 percent of the appraised value of the property and add the cost of the new Upfront Mortgage Insurance Premium.
Choose the lowest result of Step 1 and 2. That is your maximum insurable mortgage.
Streamlined Refinance Without an Appraisal
Find out your outstanding principal balance. Again, you can find this in your latest statement.
Subtract the Upfront Mortgage Insurance Premium (UFMIP) applicable to your mortgage.
Add the cost of the new UFMIP charged on your refinance loan. The result is the maximum insurable mortgage you can apply for.