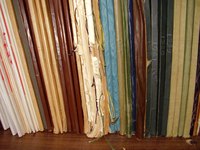 People buy life insurance policies and make payments for years until the policy is paid in full. Then they file the policy away and frequently forget about it. Sometimes the beneficiary does not even know that a life insurance policy exists. You may have to spend many hours researching and tracking down lost life insurance policies, but it is possible to find them. Internet access will make the process much faster for you than snail mail.
Look for the original life insurance policy in the person's files and in the safe-deposit box at the bank. The policy may be inside a family Bible or a favorite book. Vintage policies may be fan-folded like a small brochure.
Sort through the person's paperwork and look for payment stub books. Older policies had nothing more than payment stubs that an employee would initial each month when receiving the cash payment.
Read the bank statements for payments to insurance companies. Look for canceled checks as well as direct debit transactions.
Ask the bank if it sold a life insurance policy to the person. Banks and credit unions offer life insurance policies to their customers.
Check with the employee benefits department of the person's employer to find out if he had life insurance through the company. Check with previous employers if the person had vested benefits from earlier in his career. Because of privacy laws, you will have to show you are entitled to the information. Call before you visit to find out what paperwork you will need to present.
Contact every credit card company to learn if the person had insurance premiums deducted from his credit card. Reading recent credit card statements will not suffice. Your friend or relative may have paid the policy in full 10 or 15 years ago. The credit card company will have to pull the entire history of the account.
Look on the Internet at every state bureau of unclaimed property. A person who has passed away in one state may have lived previously in several other states. Additionally, the insurance company offices may have relocated to different states several times because of moving or acquisition by another corporation. States have their unclaimed property databases on the Internet along with a streamlined claim process.
Mail or fax letters to insurance companies asking if the person has a life insurance policy with that particular company. This is time-consuming but effective.
Contact your relative's lawyer and tax accountant. One of them may be aware of a life insurance policy or even have possession of the policy paperwork.