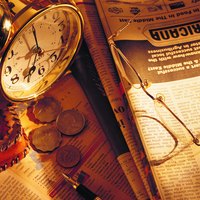 When its nature of business changes, a company may consider changing its business structure. Many companies start as sole proprietorship then later transition to corporations or limited liability companies (LLCs). Companies change their business structures for a number of reasons. For example, some transition from corporations to LLCs for better tax benefits. Changing your business structure is akin to starting a new company and closing the current company. The steps for this transition can be difficult or very simple, depending on the complexity of your current company.
Opening a New Company
Consult with a trusted attorney and/or accountant to gain a full understanding of the implications for changing your business's structure. These advisers may supply recommendations for the optimal business structure for your company, given its current situation. Also personally do research to make a well-educated decision.

Register with the proper agency to create a new business. If converting to a sole proprietorship or partnership, file a fictitious name or DBA with the local county registrar of deeds. If converting to a corporation or limited liability company (LLC), file the articles of incorporation or organization with the secretary of state of a chosen home state.

Create governing documents for your new business structure. For new organizations filed with the state, this will include corporate by-laws or an LLC operating agreement and organizational meeting minutes.

Acquire an Employer Identification Number (EIN) from the IRS and any other tax identification numbers required by the home state and locality for your new business. This will allow the new structure to have its own financial accounts.

Open a new bank account, preferably with the same bank as the current company. This continues an established banker relationship and keeps the banker informed of the company's actions.

Transition Old to New
Transfer assets and liabilities from you old company to the new one. This may require using existing capital to pay off legacy liabilities.

Notify licensing agencies, insurance companies, suppliers, partners, customers and employees of company changes. Some of these stakeholders may require the closing of old accounts and opening of new accounts. Others may simply require an update of company name and EIN.

Close your old company. Follow all procedures required by the IRS and your state government. This requires some paperwork and time, especially when there are many employees involved.