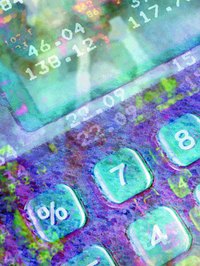 Net income per share is commonly referred to as earnings per share. Three variables influence earnings per share: net income; preferred dividends; and average common stock. Earnings per share shows investors how much of the earnings are available to common stockholders. Earnings per share does not mean the company will distribute these earnings to common shareholders through dividends.
Determine the firm's net income. Net income is located on the firm's income statement. For example, Firm X had net income of $100,000.
Determine the firm's preferred dividends, if any. Not all firms declare preferred dividends, but if a firm does declare preferred dividends, they are located in the stockholders' equity section. For example, Firm X paid preferred dividends of $1,000.
Determine the weighted-average number of common shares outstanding. As long as the company did not perform actions such as paying stock dividends, stock splits, or reverse stock splits, simply average the firm's beginning common stock and ending common stock. For example, Firm X had 10,000 common stock shares outstanding at the beginning of the period and issued 6,000 more shares at the end of the year. Firm X's average common shares for the year is 13,000.
Subtract preferred dividends from net income, then divided by the average number of common stock outstanding. In the example, ($100,000 - $1,000) / 13,000 shares equals $7.62 per share.