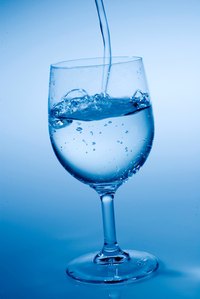 Many proponents of drinking alkaline water claim it will boost energy levels, increase metabolic rates, neutralize acid in the bloodstream and even help the body resist disease and retard the aging process. According to Katherine Zeratsky, a nutritionist at Mayo Clinic, "There's no scientific proof that any of these claims are true. For most people plain water is best."
Things You'll Need
Gallon of water
1/2 tablespoon baking soda
Making Alkaline Water at Home
Fill a one gallon container with water either from the tap or from another trusted source. Some areas of the U.S. provide substandard tap water, so choose high quality water for alkalizing.
Test the pH of the water with a pH test kit from the local drug store or a swimming pool supply store. Test strips can be used, since it is not necessary to know the exact pH but rather whether it is acidic or alkaline. If the test strip turns red when the water is dripped onto it, the water is acidic. If the strip turns blue, the water is already alkaline.
Add 1/2 tablespoon of baking soda to the gallon of water. It is best to use food grade baking soda, also known as sodium bicarbonate. If blood pressure is an issue, food grade potassium bicarbonate offers a viable substitute. Food grade potassium bicarbonate is available at wine making stores and web sites.
Stir or shake the container to dissolve the baking soda. After mixing is complete, test the water to see if it is alkaline. If the water still tests acidic, add an additional 1/2 tablespoon of baking soda and repeat the process of dissolving the baking soda in the water. Test the water again to make sure it is alkaline. If the water still tests acidic after adding baking soda two or three times, a healthier source of water is necessary.