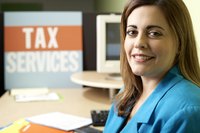 Two types of taxes usually are paid in quarterly filings: self-employment taxes and property taxes. Finding out how much you have paid throughout the year is relatively easy and can be accomplished in a couple of ways. You will need the appropriate documents, however, to identify yourself, your business and/or your property.
Things You'll Need
Social Security number or federal tax ID
Go through your own records before calling any government agencies. Most self-employment quarterly taxes must be paid with a form and with a check. Scan through your bank statements and, if necessary, order copies of canceled checks from your bank.
Contact your mortgage company if you do not pay your own property taxes. Many mortgage lenders offer an escrow service to relieve borrowers from having to make these quarterly payments. Ask for the records pertaining to your escrow account. Compare these numbers to your most recent property tax bill. It will show how much you have paid.
Call the finance department of your local government and ask how much you have paid in property taxes. This is most easily accomplished if you have the parcel ID for your property. To find the parcel ID, look at the deed to your home. This number is unique to your property and is assigned when the land is surveyed. Give this number to the finance department representative.
Contact the Internal Revenue Service if you cannot locate or determine your self-employment quarterly taxes. An agent will be able to quickly locate your personal and business records with your Social Security number or federal tax ID.