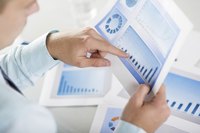 Incorporating milestones in a project plan helps both you and your team stay on track. If you make information about key dates and associated deliverables available to project stakeholders, they can also reduce questions and become a time-saving tool. Depending on your needs, a project milestones chart can be part of a larger project plan or a separate document.
Identify Project Milestones
Milestones relate to key aspects of a project, not to dependencies or miscellaneous information. Start by identifying key dates, deadlines and deliverables. Key dates function to inform team members about important events, such as project meetings, and mark significant project points. Key deadlines and deliverables make it easier for team members to see what's coming up and plan accordingly. Although not appropriate for every project, key externals, such as a due date for an outsourced portion of a project, are relevant milestones.
Sequence and Prioritize
Review the tasks required to complete each milestone, including an estimate of how long each will take to complete. Prioritize milestones based on dependencies, and if there aren't any, on where they fit in the project timeline. Dependent milestones rely on the completion of at least one other milestone, and as such must go in a specific order. Set a start and end date for each project milestone, and arrange milestones in date order.
High-Level Milestones Chart
A high-level milestones chart is appropriate for small projects or as an informational aid in larger projects. Although you can use spreadsheet or project planning software to create a high-level chart, you can create one manually just as easily. Add a milestones label in the first column and date information -- months or weeks -- as remaining column labels. Insert deliverables information in rows within the first column, and insert due dates in the appropriate columns.
Gantt Milestones Chart
Use project management software to create a more complex milestones chart called a Gantt chart. In a Gantt chart, the left side displays each milestone deliverable and the right side displays a bar whose position and length represents the start date, duration and end date of deliverable tasks and activities. In general, the process involves entering each project milestone as a separate task, entering the time frame for completing tasks required to meet the milestone as the duration and marking the task as a project milestone.