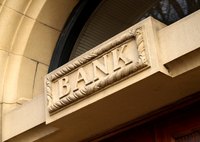 Online banking provides convenient access to accounts. It is available 24 hours a day from wherever you have a computer and Internet access. You may check balances, pay bills, transfer money between accounts and even open new accounts. You may review statements, stop payment on checks or chat live with a customer service representative. Most online banking services are free.
Open an online bank account. You can choose any bank or credit union, but your current financial institution is the easiest option. The online banking system will recognize you as an existing customer as you enter identifying information such as your debit card and Social Security numbers. Your current accounts with the bank, such as checking and credit card accounts, will automatically be linked to your new online banking access. If you choose to begin online banking with another bank you will have to start by opening a checking, savings or money market account. Most banks offer options for opening new accounts online, in person or by telephone. Once you have decided which bank to use, navigate to its homepage. Find the link for enrolling in online banking, and follow the links as you enter your identifying information and create online access to your existing accounts.
Familiarize yourself with the many features of online banking. Click through the various tabs as you explore tutorials, new user videos and lists of frequently asked questions. Explore the options for electronic bill pay or viewing your bank statements.
Take advantage of the interactive features by clicking on the customer service tab. Find the link for chatting live with a customer service representative and click on it. A chat window will open and the representative will introduce herself and ask how she can help. Tell her you are a new online banking customer and would like advice on how to use the site. The representative should be able to answer general questions and also guide you to additional tutorials and training options by providing links.
Learn more by taking advantage of some of the features. Navigate to the bill pay area and set up accounts to be paid electronically. Start, for example, with your utility company. Follow the prompts to enter the name and address of your utility company, along with the account number. You can exit the bill pay area without actually making any payments, or you can schedule your first payment. Setup e-mail alerts to tell you when your account balances have dropped below a certain level. Print a copy of an electronic check processed against your account. Continue exploring the site as you find more features that will make your banking easier.