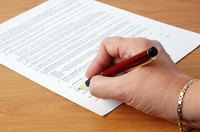 A sales contract for a business can be a formal or informal document, depending on whether the parties involved do business regularly or infrequently, and whether they are small or large companies. The purpose of a business sales contract is to document the terms of an arrangement or agreement so that the parties involved can refer to it later if there is any disagreement or if either party fails to deliver on the predetermined terms. Above all, a business sales contract easy to understand and inclusive of all relevant information.
Outline the terms of the business sales contract. Write down the product you are selling, as well as who is buying it and who is selling it. Include the quantity as well as the date when the transaction will take place. Use as much detail as possible. For example, if you are writing a sales contract for a catered event, include information about the menu items the client has chosen, as well as whether the agreed upon price includes service and use of the caterer's dishes.
List the payment terms of the business sales contract. Mention whether there is a deposit due upon signing the contract or at some date before the delivery of the goods. Specify when the balance of the payment is due, and whether the seller has agreed to finance payments. If there is a financing arrangement, write the dates or intervals when payments will be made, as well as the agreed upon interest rates. Include information about late payment penalties and early payment discounts.
Outline any special terms relevant to the business sales contract, such as the buyer's recourse if he is dissatisfied with the product or the seller's option to deliver some of the inventory at a later date. The special terms of a business sales contract can include any provision that is mutually satisfactory to the buyer and the seller, even if these terms are unusual or unconventional.
Provide lines for each of the parties to sign and date the contract. Prepare two copies of the contract so that each party can keep an original signed and dated copy.