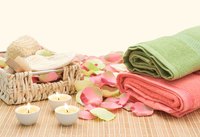 The Personal Care Products Council, the leading personal care industry trade association, estimates the size of the industry at more than $40 billion annually. According to the International Spa Association, spa products alone account for over $10 billion. As consumers continue to favor organic and green products, the industry is continuing to grow at a rapid pace, and it is one of the few industries in which small home-based manufacturers can succeed and grow into large companies.
Research the legalities involved in manufacturing bath and beauty products. Check with your local zoning authorities to learn if there are any zoning laws that prohibit home-based manufacturing. Your state and the FDA also have regulations regarding what can be used in personal products and what claims can be made about ingredients, manufacturing, benefits of use and allergy warnings.
Incorporate your business in order to protect your personal assets in case one of your customers claims your products harmed them in some way. A Limited Liability Company (LLC) will allow you to write off your start-up expenses against your personal income.
Contact as many ingredient suppliers as possible, and discuss your plans to start a business. It is in their best interest to help you succeed in your business, so they are often a great source for advice. Choose those suppliers who are the most helpful and provide the best prices.
Decide what to include in your product line. Choose based on ease of manufacture, inexpensive cost of ingredients and product types you know will sell easily. Hair care products, cremes and lotions are the leading categories of personal care product sales.
Estimate your costs of supplies and packaging. Project your revenues, and adjust your plans to make sure you will have at least a 40 percent gross profit margin before your marketing expenses and production costs such as utilities, workspace and storage.
Write a marketing plan, making note of any local spas, hair and skin salons, gift shops, boutiques, drug stores and health food stores. Homecraft and custom bath and beauty products are also popular sellers at street fairs, farmers' markets and church and school fundraising events.