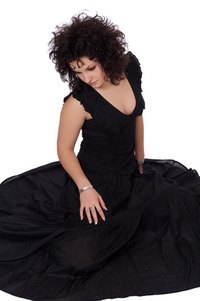 Whether you're interested in starting your own fashion line or simply outlining a dress idea, you'll need to understand how to accurately draw dress designs. Creating a dress design drawing will help you visualize your fashion creation, which may inspire alterations within the actual design. You do not have to be a professional artist to create dress design drawings; however, some level of artistic talent is required in order to clearly depict your dress idea.
Things You'll Need
Drawing pad
Fabric samples
Gather a pencil, eraser and drawing pad to create the first draft of your dress design. Begin drawing the outline of the dress followed by adding details to the design. To help you get started, you may wish to begin with a basic template of the overall shape or type of dress. You can find these online or in dress design books at your local library. Draw three version of your dress. The first should be a straight-on angle showcasing the front of the dress. Next, draw a side angle of the dress to help determine how this dress will look from the sides. Lastly, draw the rear (backside) of the dress. By drawing the three angles you'll be able to fully understand what the dress will look like.
Visit your local fabric shop and select several fabrics for the dress. Bring your rough draft versions of the dress design with you to help determine if a certain fabric will flow with the design. Choose at least five different fabrics or fabric combinations. Only buy a small sample of each fabric you may use.
Create a second draft of the dress in all three angles. Spend more time with this draft perfecting the small details of the dress. Attach the fabric samples to a separate sheet of paper with a short description underneath each one. Show this second draft drawing as well as the fabric samples to friends and family. Ask for their opinion regarding the dress design, style choice and fabrics.
Draw the final version of the dress in all three angles. Alter the dress design to reflect the opinions of your friends and family. Make your final fabric selection and attach the fabric sample(s) to the drawing.